This course makes use of digital content from Wiley Publishing called WileyPlus (WP) or WileyPlus (WP) Learning Space. This content contains not only an electronic, printable version of your textbook but also myriad study tools. You are not required to purchase a printed copy of the textbook. You MAY purchase an alternate format printed loose-leaf textbook at a substantial reduction off the "regular" textbook price, or you may choose to simply use the electronic version of the textbook included in the WileyPlus materials. You will use the D2L environment for some of your learning tasks and you will use WileyPlus for others.
Activate WileyPlus
The first thing you must do in order to use the digital materials at WileyPlus is to activate your account. This is very simple:
From Content>Click on one of the WileyPlus links found in the WileyPlus Links or Digital Content module [the WileyPlus course information will load in a new window]

For example you MIGHT see the following: WP Read, Study, & Practice; WP Assignments; WP Gradebook; WileyPlus Learning Space Homepage; WileyPlus Learning Space eText; WileyPlus Learning Space Notes; or WileyPlus Learning Space Gradebook. [NOTE: each WileyPlus course has a few different links, these links may not match your course exactly but these are examples of what to look for]



If applicable in your course, you may also see links to the individual WP assignments and Chapter Reading links.  For example, Chapter 1 Reading, Module1, Chapter 1 Homework or Module1, Chapter 1 Test. To access all of the WileyPlus digital assets, you can use the associated links listed above.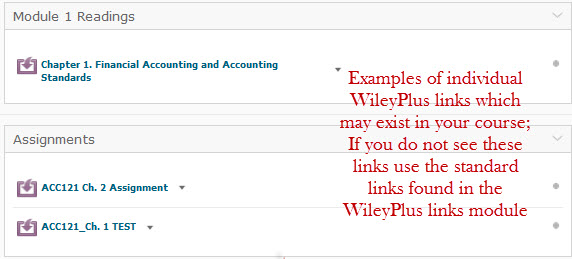 It is CRITICAL that you not open more than one of these links at a time. By opening more than one of these, you are at risk of losing your work.

To move from one link to another (for example, to move from WP Self-Study Read, Study & Practice to Assignments, to WP Assignments CLOSE the Self-Study Read, Study, & Practice window, go back to the D2L Content area, and then open Assignments.

Be sure that you have disabled popup blockers.
SAVE your work at least every 5 minutes to avoid loss of work.
WileyPlus Technical Support information can be found here.