Welcome to Daylight
---
Welcome to D2L Daylight!
What is the Daylight Experience?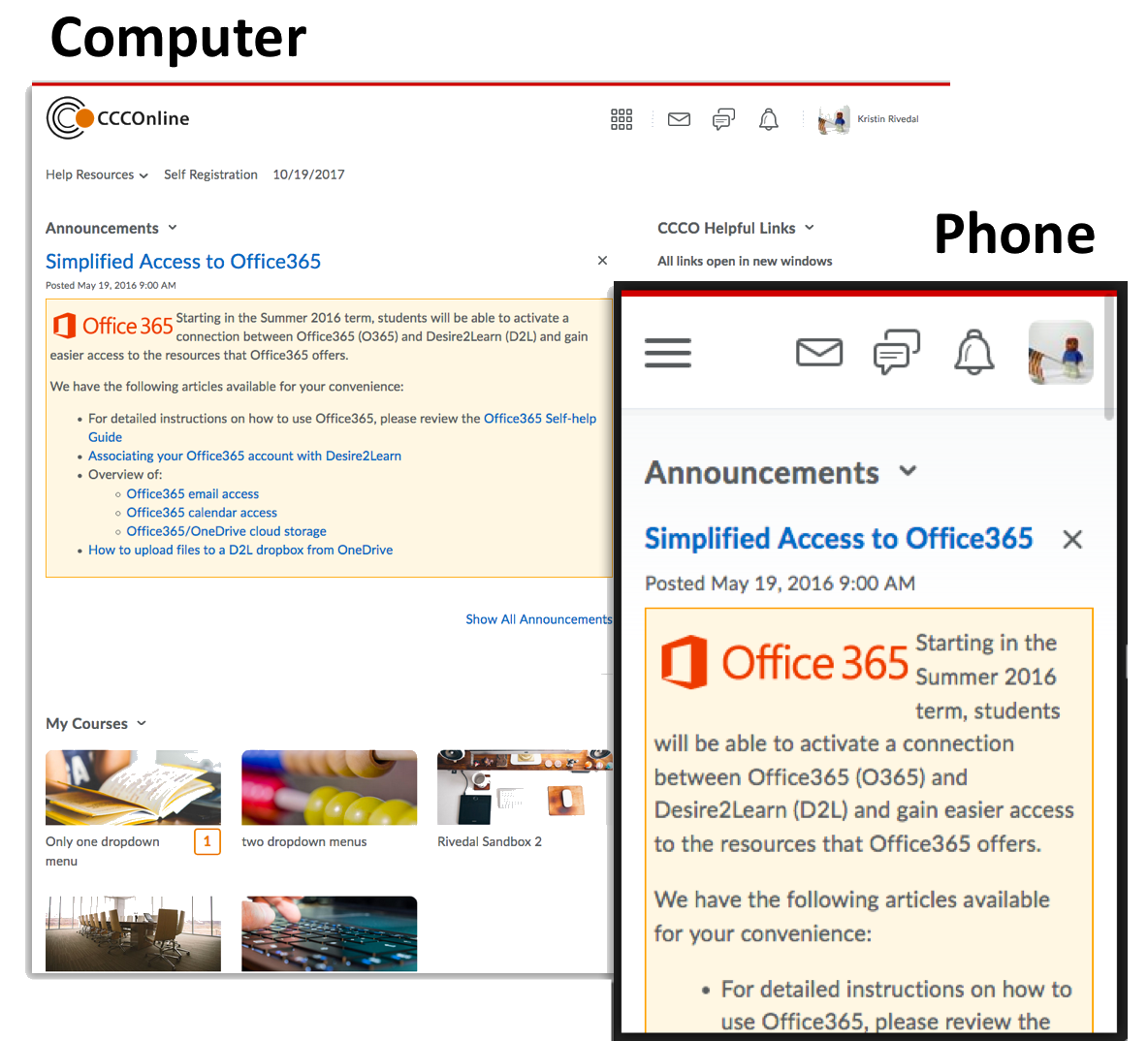 Desire2Learn is updating D2L with a new look and feel for the user interface. This updated design provides increased visual appeal including new fonts, icons, colors, and cleaner formatting.  There have been changes to improve responsive navigation for mobile devices, tablets, and other narrow displays.  Tools now have a consistent look and feel with a focus on learning activities.  The Daylight Experience also features a new My Courses widget that provides a responsive tile-based layout and courses that display with images.
The D2L Daylight Experience features are optimized for use in modern web browsers such as Google Chrome, Mozilla Firefox and Microsoft Edge.  D2L is continuing to optimize performance and improve page load times in the Daylight Experience.  The Daylight Experience doesn't modify your content or other settings in D2L.  All workflows and features in the Daylight Experience are available on all supported browsers.  (See https://community.brightspace.com/s/article/Brightspace-Platform-Requirements for the most current platform requirements)
My Home page
The My Home page is the first page you land on when entering D2L. Here you will find the My Courses widget, the course selector, and access to a number of other helpful resources.
Pinning Courses
Pinning courses will cause those courses to display on the My Courses widget and to be listed first on the Course Selector. You can pin or unpin courses in the following ways:
If the course appears in the Course Selector, click the pin icon to the right of the course name. This works to both pin (turn pin icon dark) or unpin (turn pin icon light)

To pin courses that do not appear in the course selector (courses outside their respective start or end dates), click the "View All Courses" link at the bottom of the My Courses widget. On the next screen, you will see two groupings of your courses: Pinned and Unpinned (1). To pin a course, hover your cursor over the course image. When the ellipsis appears, click on it and then click the word "Pin" (2). You may also unpin courses with this same process. (hint: click the x in the upper right corner (3) to close this screen and return to the My Home page)

Course Home page
Clicking on a tile in the My Courses widget or on a course title in the Course Selector will take you into that course. The first page you see upon entering at course is the coures home page. Much like the My Home page, this page is made up of navigation and widgets.
---
Article ID: 351
Created On: Tue, Jan 16, 2018 at 10:04 AM
Last Updated On: Fri, May 4, 2018 at 9:59 AM
Authored by: Kristin Rivedal [Kristin.Rivedal@cccs.edu]
Online URL: https://kb.ccconline.org/article.php?id=351