Use the following instructions to sync grades from the Pearson MyLabs to the D2L grade items.
From the D2L, Click Content>Open the Pearson MyLabs Instructor Tools module
Click the Instructor Self Service link, will open in a new window

From the Instructor Self Service window>Click the Manage Grade Sync icon
Roster icon-- will only show students who have clicked one of the MyLabs assignment links in the course. The Mylabs Roster and D2L rosters may not show the same students if all students have not click a Mylabs link.
Add Links icon--this icon is used by the development team and is not a tool that instructors will need to use
From the Manage Grade Sync window, Confirm the Grade Sync is On.
To sync grades click the checkbox to the left of the associated assignment that you want grades to populate in the D2L grade items.  
NOTE: for items you that are not graded or you do not want scores to sync to the D2L gradebook uncheck the checkbox to the left of the assignment title
Click Save Changes at the bottom of the page.
Note:
--It can take the grades 2-3 minutes or a few hours to appear in the D2L gradebook. Wait at least 24 hours and try a couple of times to sync grades before submitting a ProfHelp ticket.
--Any items not checked will be marked as disabled, and will no longer sync with your D2L gradebook.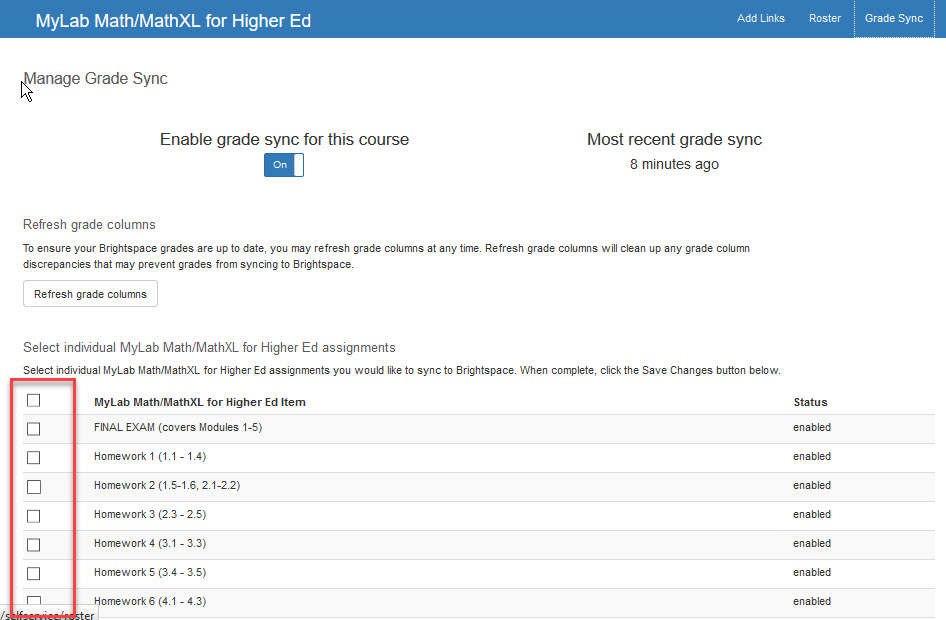 --Click the top checkbox to select all of the MyLabs graded assignments to sync to the D2L gradebook. This is only recommended at the end of the semester as syncing grades may cause students to see zeros in the D2L grade items on assignments that they have not yet complete. Review the How to Manage Incomplete Assignments in Pearson MyLabs to ensure student assignment grades are set to zeros if not complete.
--Pending status indicates that the grades have not yet been sent to the D2L grade items