Navigate to a course where you will be using YuJa. If you do not see YuJa listed in the course navigation, please contact at-support@ccconline.org

Clicking on this link will open the YuJa dashboard within the D2L course window: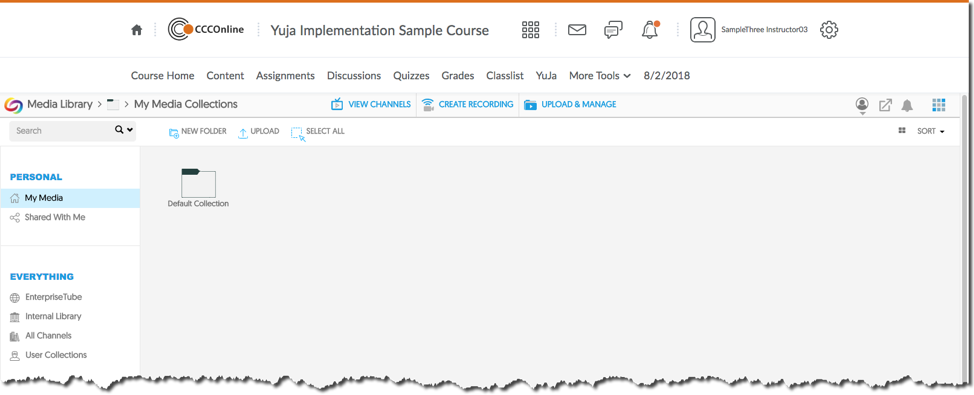 Orientation to the YuJa dashboard
Left pane: Media Library

Personal:

My Media – this is where materials you upload or record are stored
Shared with Me – this is where items that others share will show up

Everything:

The EnterpriseTube, accessible to everyone without logging in.
The Internal Library, accessible to logged in users with role-based permissions.
All Channels, course- or group-aligned content, accessible to users and content owners in the course or group, as well as all IT Managers.

Top navigation:

Center links

View channels – another view of the channels available
Create Recording: clicking this link will open a popup window that will allow you to start a capture in YuJa Software Station (will allow download if the software is not installed)
Upload & Manage: this option will take you to the screen where you can upload other materials to YuJa and manage existing items.

Links on right:

The icon of a person in a circle is where you can access information about your account; this menu also contains a link to YuJa support (with options to call, email, message or view documentation.)
The square with an arrow will open the YuJa dashboard in a new tab (without the D2L frame)
The bell is where you will find any notifications
The square of smaller squares menu has links to a YuJa discussion feed, usage and analytics data for your videos and tools to manage courses and groups, if you have permission to do so.