Use the instructions below to submit your final grades for CCCOnline courses.
Login through CCCOnline Instructor Portal
From the Dashboard>Click the Course Gradebooks icon


OR
Select the Instructor Tab 
Expand the Instructor Gateway Widget, Expand Course Tools>Click the Course Online Gradebook link

     5. From the Online Gradebook window, Select the appropriate course section in the table
      Note: If you are missing any section(s) or have extra section(s) listed, please contact the AT department
     6. For students with an F, U/D, or U/F grade, provide a last date of attendance in the column titled "Click Calendar Icon to Choose a 'Last Day of Attendance' for Students Who Received an F, U/D, or U/F."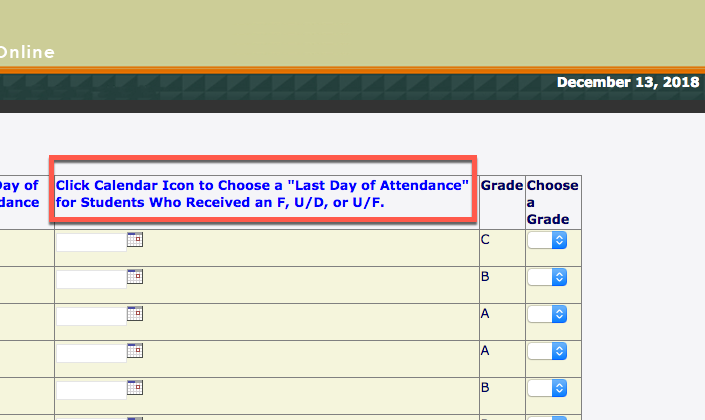 7. Enter the appropriate grade for each student, accepted grades are listed below.
     Note: Remember, developmental courses (those with course numbers under 100) must use the developmental grades, see below
     **All students on the grade roster must be given a grade, even if they have not participated in the course**
     8. Click Update and return to the menu to select the next section if needed

Approved grades

Standard courses (course numbers 100 and above, e.g., PSY 101)
A
B
C
D
F (must include last day of attendance)

Developmental courses (course number less than 100, e.g., MAT 050)
S/A
S/B
S/C
U/D
U/F (must include last day of attendance)