Create QuickLinks with the HTML Editor?
NOTE: Use the QuickLinks feature to create hyperlinks in your course from the Assignments, Announcements, or Discussions Tool. The QuickLinks can be to web pages external to the course (URL), Course Files, and even specific course tools, such as Discussion Topics, Quizzes, and Assignments. ALWAYS CHECK TO BE SURE YOUR LINK IS WORKING AS INTENDED!
1.  Open the HTML Editor and select the QuickLink icon. 

2. From the Category drop-down menu, select the type of link you want to create. Depending on the selection, menu options adjust on the Insert QuickLink page.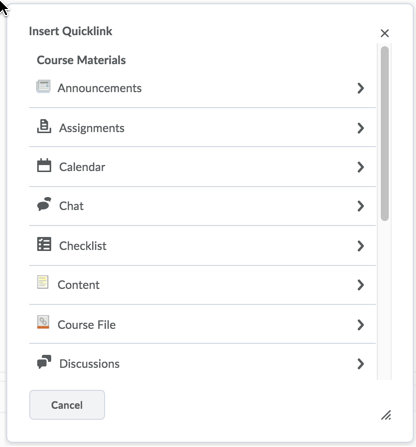 If you select Course Files navigate to the desired file, once you locate the file Click the pencil icon to the right of the file name to update the Text Title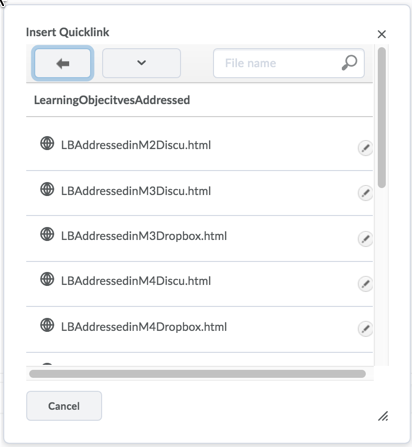 3. Select the Open In option (Whole Window, Same Frame, or New Window)>Click the Insert button>Your link will now appear in the HTML editor.
______________________________________________________________________________________________________________________
NOTE: There is a known issue with library permalinks. Please do not use Quicklinks for library permalinks, as they will not work. Instead, please use the following workaround:
Click Insert Stuff > Insert Link > Paste Permalink > Click Next > Paste Link Display Text > Click Insert