The Class Progress tool allows for an instructor to view a student's course progress. This tool can be accessed by clicking on the View Progress icon within the Classlist or Enter Grades section of a course. Refer to the images below to learn how to view a student's course progress.
Step 1
Log into your desired course and click on Classlist.

Step 2
Click on the drop-down menu to the right of the desired student and select View Progress.

Step 3
Switch the different tool data by first clicking the desired item in the left side menu>Click Summary, Grades, Objectives, Content, Discussions, Dropbox, Quizzes, Checklist, Surveys, Course Access or Login History.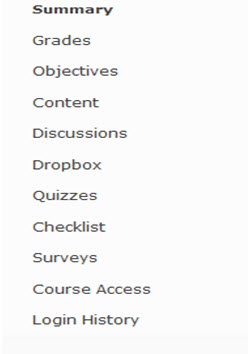 Step 4
Each tool selected will show a summary and details of selected tool. The screenshot below shows this view for the Content tool.