Some digital assets used in CCCOnline courses require you to clear your browser cache and cookies each time you access that asset. If you would prefer to not have to remember to do this manually each time, you can use the instructions below to set  your browser to automatically clear the cache and cookies every time you close it.
Firefox:
Open Firefox Preferences
Select the Privacy section
Just below the History heading, in the dropdown menu next to "Firefox will", select "Use custom settings for history"
Click the check box to "Clear history when Firefox closes"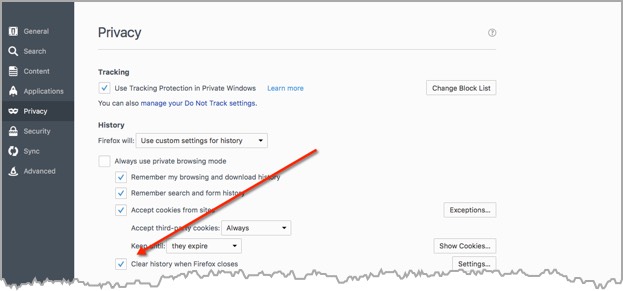 Chrome:
Open Chrome Preferences
At the bottom of the Settings page, click the blue link to "Show advanced settings..."
Click the "Content Settings" button
Click the radio button to "Keep local data only until you quit your browser"
Click "Done"